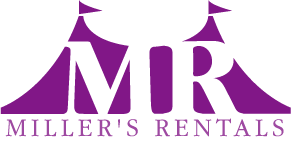 Miller's Rentals has been in business for 80 year. As the present owner, Stuart Kohn is a member of a third generation rental family. The business has been successful due to the many talented people who have worked for Millers over the years. Millers is always searching for new talent to help the business grow even further. If you are interested in applying for any of the following positions, please E-mail, fax or mail Millers your current resume. We will respond promptly.
"This is truly a great company to work for".
Delivery Driver/Special Event Installer
Large rental company seeks drivers to deliver/install special events. Events include weddings, graduations, backyard parties, movie premieres, NYC parties, red carpet events, etc. Individual will be responsible for delivering/installing/removing tents, tables, chairs, red carpet, lighting, staging, along with other various rental products. Working nights, overtime, and weekends is required upon request. Valid driver's license with clean driving record is required.
Customer Service Representative/Showroom Clerk
Large special event and party rental company seeks individual to work in showroom. Individual must be up-beat and friendly and will be required to answer phones, write contracts, assist walk-in customers with rental merchandise, blow up balloons, or anything else asked of them by the showroom manager. Data entry skills required. Job would require approximately 40 hours per week. Weekend hours will be required seasonally.
Sales: Responsibilities include developing and maintaining relationships with our present clientele, which includes individuals in the Corporate and private sector of our trading area as well as recruiting new customers. A firm knowledge of the inventory that Miller's is able to provide and the services that can be delivered. Some travel may be involved. Good Customer Service interaction is essential.
Warehouse Personnel: Responsibilities include delivery, setup, removal and maintenance of rental equipment (heavy lifting may be required). A general knowledge of how all equipment operates is essential. May be required to demonstrate setup and use to customers from time to time. Be prepared to work long hours at peak season times. Driver's license may be required as well - CDL is a plus. Full and Part time hours available.
Tent Crew Members: Installation of party tents for the corporate and private markets. A good knowledge of tent setup and tent inventory will be helpful. Extended hours during peak season. Full and part time hours available.
Balloon Decorators: Talented individuals who like to work on location and transform homes, or businesses into themed events. Balloon decorating includes, but is not limited to archways, centerpieces, columns, and stuffers. Early and late hours often required. Always looking for personal people with a flare!
SkyTracker Operators: Operators of our Patented 4 beam aerial search lights for our east coast territories. Great for part-time evening work.
Counter Personnel: Responsibilities include generating computer contracts for our clients for their special events. This can consist of phone and walk in orders. A firm knowledge of Miller's inventory and services are necessary. A diversified position with some overtime.
Stock Persons: Responsibilities include maintaining our attractive showroom, inventory control and stocking shelves at our location in Edison, NJ

Copyright © 2000 Miller's Rentals, Inc. All rights reserved.